I Work at Home or Away. Whatever Works for You.
From our home voiceover studio in Music City USA we can record great sounding voice treatments. We work quick and get back to you fast. It's easy to book and produce voice overs with CrayonMouth because we do the bookings and we do the work, fast and affordable voice over work, within your budget.
Are You Looking For…
a voice over talent who can really read ad copy?
a voice artist who can take direction?
a voice over guy who can deliver with a velvet glove or an iron fist?
someone who virtually lives "in studio"?
You've found him.
About Crayon Mouth Studios
The simple yet sophisticated voice over booth in our home recording studio features Pro Tools recording, mixing and editing software for true professional sounding voice recordings.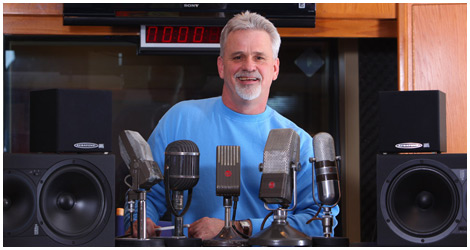 Hear Marty get WILD Sunday evenings at 7pm on the Outdoor Channel. Or just watch the video below…
We have access to a variety of superlative microphones including my own personal favorite in my AKG Perception 220. And there's another full service studio right next door.
The personal sound booth in our home voice over studio is designed to keep outside noise out and inside noise in. The sound we deliver is crisp, clear and top of the line.
Isn't Nashville Great?
Being in Music City USA, we have access to dozens of great big recording studios, and more mikes, and more tracks, and lots of special effects and music libraries and so we can always run across town or down the street and record at one of the hundreds of great sound studios that abound in and around Nashville. We are comfortable recording our voiceovers at Nashville's three oldest and most popular FULL SERVICE voice over production facilities, SpotlandStudios, Archer Productions and Audio Productions. We would be happy to book a session with Nick Archer at Archer Productions, Ben Holland at Spotland, or Jim Reyland at Audio Production whenever casting for multiple voices and/or characters are involved. For that matter, for the right price, CrayonMouth will record practically anywhere in the country, or the world. Say the magic words and our voiceover- talented pipes will be on the next plane out.
Other studios of note where we have worked extensively performing, directing and producing voiceover sessions and radio and television advertising jingles.
Critereon Studios of Dallas — in Dallas, TX
SOB (Sound of Birmingham) — in Birmingham, AL
Boutwell Studios — in Birmingham, AL
Delivery of your voice over product – sound files and method of delivery.
Specify your preferred file format:
We'll email the files to you, upload to your FTP site or send via courier with your account number and billing details provided.
Your Satisfaction is my #1 Goal. Call the Mouth at (615) 506-6010 to book a session.